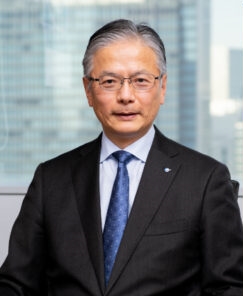 Founded in January 2016, as the Port Operating Company of Keihin Port under the Strategic International Container Port Policy of the national government, Yokohama Kawasaki International Port Corporation (YKIP) has been working on the enhancement of the international competitiveness of our country's ports through the development and operation of the container terminals in the ports of Yokohama and Kawasaki, including the flagship project of the Minami-Hommoku wharf which is capable of accommodating the world's largest container ships, with the capital investment from Japanese Government, both Yokohama and Kawasaki Cities, and private financial institutions.

 Paying closer attention to the global environmental issues such as decarbonation, we will commit to support both the development of the Japanese industry and the building of a vigorous local society, through further development of Yokohama port as the international hub port of Japan where trunk lines and the other ship routes from all directions call, and Kawasaki port as the comprehensive distribution base in national logistics featuring nation's largest concentration of refrigerated warehouse facilities.
 We will do our utmost to strengthen the international competitiveness of both Yokohama and Kawasaki Ports, working closely together with all related organizations and parties, and we ask for your continued support and cooperation.