1. Geographical Superiority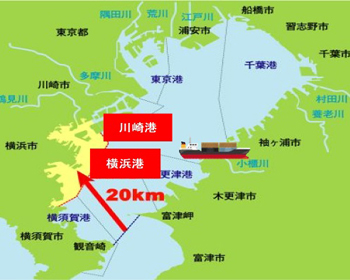 The ports of Yokohama and Kawasaki are located in the mouth of Tokyo Bay, where winds and tidal currents rarely have any impact on cargo handling.
The ports also have the geographic advantage of being the first and last ports called on many North American routes.
2. Global Network of Container Liner Services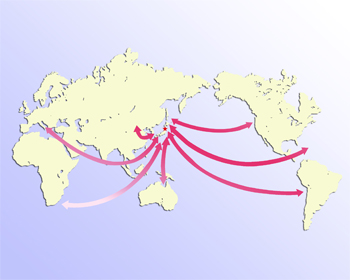 Major global shipping companies offering extensive route networks make calls at the ports of Yokohama and Kawasaki.
In fact, a number of regular container liner routes offer direct and speedy services to the ports from around the world.
Coastal feeder and coastal barge services are also operated between the Yokohama/Kawasaki ports and other domestic ports.
3. Expanded Road Network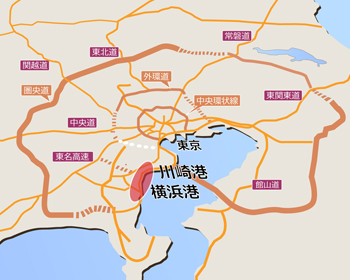 In recent years, the road network connecting the Yokohama and Kawasaki ports to the hinterland has been greatly improved. The Metropolitan Inter-City Expressway now connects the Tomei Expressway with the Tohoku Expressway through the Chuo and Kanetsu expressways, thus enabling easier road access to areas such as the Kanto-Koshinetsu region.
Furthermore, the Yokohama Ring Expressway has been improved to expand the import-export logistics network based at the ports of Yokohama and Kawasaki.
4. Deep Berth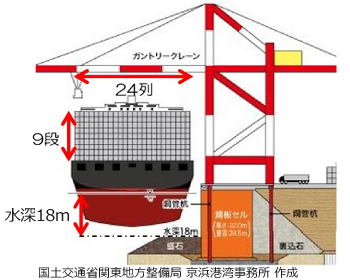 The MC-3 container terminal at the Minami Honmoku Pier has an 18 meter quayside water depth — the nation's deepest. This terminal has gantry cranes capable of handling 24 rows of containers nine tiers above deck, thus enabling the terminal to accommodate the world's largest containerships.
To ensure safety at the terminal, the quay is seismically enhanced, thus making it quake-resistant, and all gantry cranes in the terminal are equipped with seismic isolation devices.
5. Safe, Speedy and Accurate Port Services
High acclaim has been received from shipping companies and shippers around the world for the exceptional cargo-handling efficiency provided at the Yokohama and Kawasaki ports. Speed and accuracy in cargo loading and unloading are ensured using advanced cargo-handling techniques and know-how that leaves customers satisfied and assured.
Container loading and unloading can be stably performed because traffic congestion at the gates to the container terminals is relatively light. In fact, additional gates were installed at Minami Honmoku Pier in June 2016 to achieve further efficiency in integrated container terminal operations.  
6. Eco-Friendly Ports
The port of Yokohama has a financial support for environment-friendly ships.
All ocean going vessels which score 30 points or more on the Environmental Ship Index(ESI) or certified by Green Award Foundation can apply to this program.
Visit here for more information. References

Furthermore, the hybridization and electrification of cargo-handling machines, like transfer cranes, are helping to make the ports of Yokohama and Kawasaki more eco-friendly. Safer, brighter LED lights illuminate existing terminals and will be standard within terminals constructed in the future. And we're also making use of renewable energy.
Also, we have implemented modal shifts such as the efficient use of coastal feeders, barges, and railways to help us achieve green logistics. This helps us to reduce not only CO2 emissions but also traffic congestion in the capital region and the port areas.
7. Cold Storage at Its Best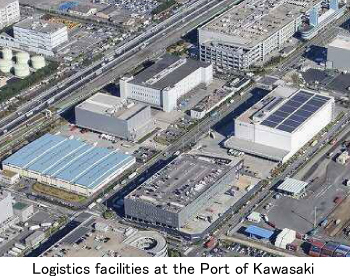 Kanagawa prefecture has been the site of the nation's most extensive collection of cold storage warehouses since 2014.
Many logistics facilities are located around the Yokohama and Kawasaki ports because these ports provide great access to large-scale consumption.
8. Relaxation of Compulsory Pilot System
In August 2015, the gross tonnage (GT) minimum for ships subject to compulsory pilotage was raised from 3,000 GT to 10,000 GT within the Yokohama section of the Yokohama-Kawasaki compulsory pilotage area. This revised regulation now enables shippers operating large 9,000 GT class vessels on Asian routes, such as those to and from China, to save on operation costs.

* Note: This revised regulation does not apply to vessels loading hazardous materials.
9.Incentive Programs
YKIP and the cities of Yokohama and Kawasaki offer various incentive programs related to container cargo collection, new route startups, and so on. Don't hesitate to contact us if you are interested in participating in any of these programs.